Te Whau Point — the decline of a landmark
On early survey maps of the Whau area, now Blockhouse Bay, and charts of the Manukau Harbour, Te Whau Point is clearly marked. Jutting into the sea it acts as a protective arm for the beach. The pine tree-crowned cliff face could clearly be seen when coming up the harbour and made an attractive landmark for boaties.
Te Whau Point in the 1880s, showing mangroves in the bay
Unfortunately, over the years, time has taken its toll and small landslides have occurred from time to time, occasionally dislodging one of the older trees.
Finally, in October 2003, several major slips occurred after unusually heavy rainfall, each time bringing down a substantial portion of the cliff face onto the footpath and over the wall into the sea.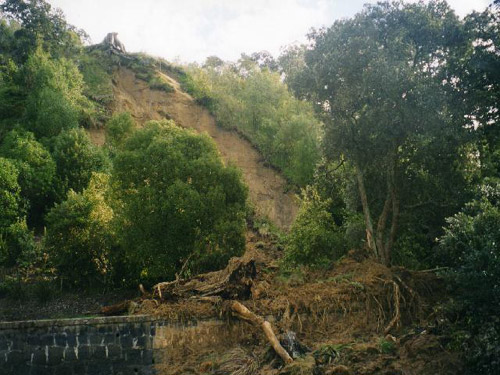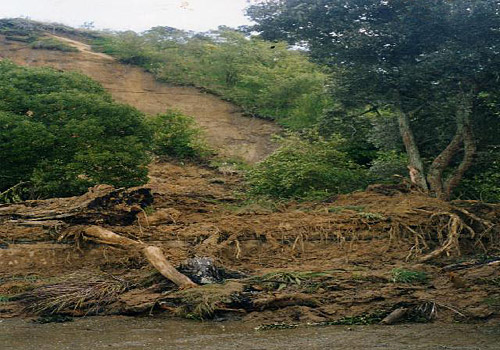 A succession of landslides and slips took place on Te Whau Point in 2003 after a series of unusually heavy rainfalls.
After clearing away the slips, the council planted native vegetation in an effort to stabilise the area, but this in turn was washed away. Many residents believe that the slips worsened when the council cut down the remaining pine trees on the cliff face to plant natives. The roots of the pine trees died, and the soil around them loosened further.
The council said, however, that it had learned from a technical report that the sandstone soil was to blame, not the removal of the pines.
At present the cliff face stands, crumbling slowly, bare except for a small amount of hardy vegetation clinging here and there. What was once a beautiful backdrop to the attractive, popular beach is now a crumbling eyesore.