The Kosy Theatre — a night out at the pictures
The Blockhouse Bay Picture Theatre was built in 1925 on the site of the present Foodtown carpark. Ola Guttermorson acted as projectionist for the silent movies, while sisters Annie collected tickets at the door and Helga belted out the accompanying music on the theatre's piano. The films were displayed on the white painted back wall of the theatre, and might be the latest epic or Charlie Chaplin's latest farce.
Ola was not a very good projectionist and there were many awkward stops and starts. Patrons, especially the younger ones, became used to the unscheduled breaks and the local lads used to take out their frustration by throwing lolly papers at the poor pianist.
When the MacMurray family moved to the district in 1927, Ola handed the projecting to John MacMurray who enjoyed the work and the films ran fairly smoothly from then on.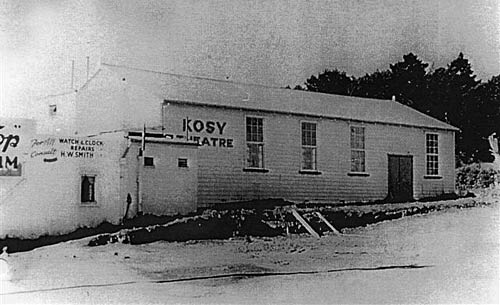 In the 1940s, real estate agent Doug Fleming took over the theatre, renaming it the Beverley after his daughter. A candy bar operated from the supper room beside the stage at the front of the theatre and there was a huge vase of sunflowers on either side of the stage. During the early 1940s the theatre was used as a temporary classroom while prefab buildings were being put together at the Blockhouse Bay Primary School.
Films were shown on Friday and Saturday nights. Each programme had a short film, the newsreel, usually a cartoon, a ten-minute serial and then, after half time, the main feature. The newsreels could be several months old because Blockhouse Bay was among the smallest of the outer city cinemas.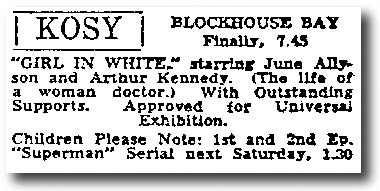 The Beverley became the Kosy once more in 1952 when Hamilton scrap merchant Fred Ofsoske bought the theatre, installing Mr and Mrs Griffiths as managers for two years. His son, Jack Ofsoske, screened films for two more years, increasing opening nights to four a week with showings on Tuesdays and Wednesdays. This was continued by a partnership between Jim Marquet and Ken McKerras. They installed cinemascope, upgraded the seating and the foyer, built three shops at the front, and also raised the ticket prices accordingly.
Also in the 1950s the theatre was occasionally used by the local Brownie, Guide, Scout and Cub Troops for combined Church Parades. The children and leaders would assemble outside the Improvement Hall and march round to the theatre for these functions.
The late Jan Grefstad, owner of the Hollywood Theatre in Avondale, got his start in movies at the Kosy as ticket collector, usher, cleaner and later projectionist and manager.
The late 1950s and early 1960s was the last great movie-going era before television kept everyone home at night. By the mid 1960s television had left many suburban picture theatres virtually empty and, like many others, the Kosy was closed in December 1972. It was demolished in January 1973 to make way for the Foodtown carpark.