By Keith Rusden 1 August, 2017
Kauri tree
Written and researched by Keith Rusden
As far as can be ascertained, the Blockhouse Bay area can boast only one veteran kauri tree. This tree sits precariously on the cliff edge, exposed to the prevailing wind and weather and all the elements.
At my request, Bruce Edwards, the Auckland City arborist, viewed this tree on 17 June 2004 to give an estimate of its age (before this he had been unaware of its existence).
With a circumference of 2.5m it is not large by kauri standards. The kauri tree is habitually a forest dweller, growing up tall and straight under a canopy of other tall trees. The arborist took into account the cold blustery wind, the low position of the crown of the tree at just 2.3m from the base, the size of the discarded bark flakes, and stated that this tree has had to fight for its survival in this position, resulting in its stunted growth. Mr Edwards gave an estimate of 150 years plus (I did offer to have the tree cut down so the growth rings could be counted!).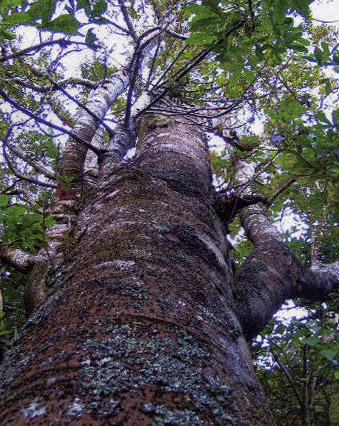 With this estimate it is possible that this kauri may have been planted by an early pioneer in the mid 1800s. Or perhaps it is a naturally self-seeded tree which, because of its stunted growth, was not a profitable milling venture which in fact may have resulted in its survival to this day.
The access to this kauri is just off the bush track of Te Ara O Tiriwa (the Pathway of Tiriwa) in lower Taunton Terrace.