By BHB HISTORICAL SOCIETY Newletter 1 December, 2017
The Blow family seat
A Gift To Our Community
From 1939, Helen Blows, with sons Bruce, Keith, Ray and Don, lived at 20 Mitchell Street, and the family were all very involved in Bay life.
After service on the "Leander" in WW2, Bruce Blows, and his wife Billie, bought two acres of land across the road on the corner of Connell and Mitchell Streets and built their home in 1946.
When Bruce and Billie were first living on this property, their friend John A.R. Blandford, an Auckland representative cricketer, was playing in England and brought home acorns taken from a mighty oak tree in Sherwood Forest. He gave them three acorns, which were planted on the very corner of their property. All three grew very well but became intertwined, so two were cut out, leaving the remaining one to grow into the mighty specimen oak tree there today.
When they decided to subdivide their property in 1979, it was at that time a requirement of the Auckland City Council that a "Council Development Contribution" be paid in cash, or a gift of land be made. Bruce and Billie decided on the latter, so the triangular site on the corner of the two roads was divided off and transferred to the Council. With the land subdivision completed, the Council thus became owners of this magnificent tree, and the City aborists have cared for it ever since.
Bruce died age 95 in 2015 and Billie has now moved into a retirement village, but the family's association with Mitchell Street continues today through their granddaughter now living in the house. Billie wanted to find a way to commemorate the Blows family's 78 year association with this area, and as Bruce had always commented how nice a seat under the tree would be, the family decided to do this, with a suitably worded plaque placed on the seat commemorating the family.
Through the efforts of our local Whau Board member, Derek Battersby, who facilitated the process with the Council, the project is now complete.
This seat is totally a gift from the Blows family to the Bay community, with no cost whatever to the ratepayers, their wish was two fold, for folks walking around this area to sit here and admire the tree, and for the seat to be a community asset while commemorating their family's long association with the Bay.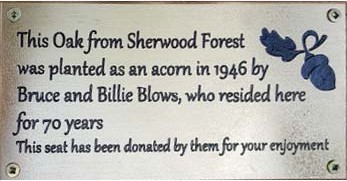 First published in the society newsletter December 2017