Auckland City Heritage Week, 16–24 September 2006
Auckland City Heritage Week was celebrated all over the city and the Society hosted a number of activities in Blockhouse Bay village.
Armanasco House was opened and featured a photographic display from our archives from 16-17 and 21-24 September. Local residents took advantage of the occasion to visit the House as, although it is used as a meeting venue, it is not normally open to the public. Events were happening all over Auckland, and yet many people came from other suburbs and even out of town.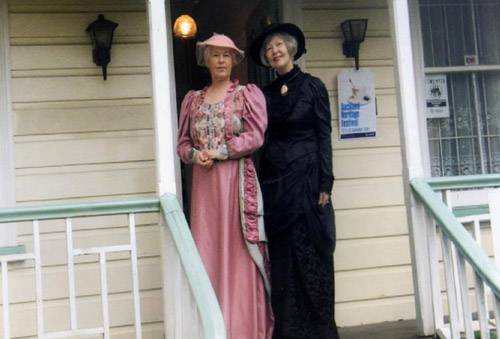 On the evening of 16 September, the Society combined with Mainstreet to hold a Heritage Dinner. Guests attended in costume and were treated to an excellent dinner and were entertained by several speakers, including the always entertaining Max Cryer. After dinner a sing-along, with occasional impromptu dancing, concluded an enjoyable evening.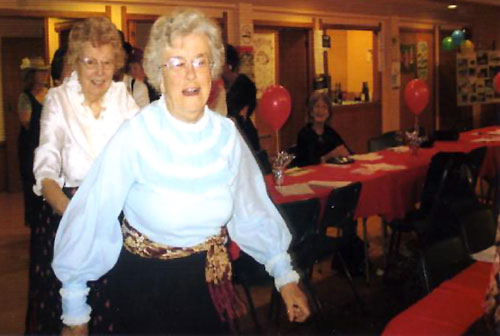 President's wife, Eileen Rusden, leads the Conga line after dinner — behind her is member Sheila Sebula
Guided walks around Blockhouse Bay village were held twice each day that Armanasco House was open. Longtime locals happily reminisced over memories of the good old days, while newer residents were very interested in all that had gone before.
23 September was Village Market Day and the Society had a Bric-a-Brac and Beyond stall on the green. This again proved immensely popular, selling almost everything from aadvarks to zoo-ophytes.
The Society's stall on market day during Heritage Week 2006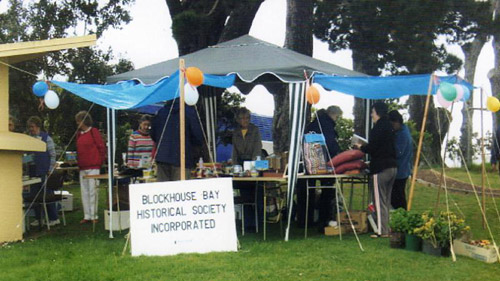 Altogether, Auckland City Heritage Week was a very busy, but very worthwhile celebration.