Quarantine station at Blockhouse Point
Researched by Bill Glen
In the early 1860s the Government was concerned that, although immigrants were checked before boarding ship for New Zealand, some passengers took ill on the voyage. There was a risk of contagious diseases entering the country, putting the public at risk. On 12 January 1864 at Government House in Auckland, quarantine regulations were signed into law by Governor George Grey. These regulations required quarantine stations to be set up at main ports, and described the actions to be taken by ships' masters, harbour boards and provincial governments, to protect the country from introduced diseases.
On 4 May 1872, a few months before the establishment of the quarantine station on Motuihe Island, 'Blockhouse Point' on the Manukau Harbour was set up as a quarantine station for immigrant arrivals on the other side of Auckland.
The quarantine area was from Te Whau Point ('Blockhouse Point') to 'Boundary Point' (bottom of the track from Blockhouse Bay Road), then bearing 208 degrees to a line bearing 158 degrees from Station Point, then back to Te Whau Point. The area was approximately four hectares.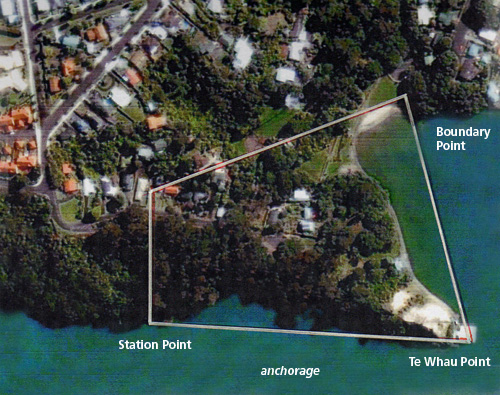 The area, taking in the lower end of Taunton Terrace East, was an obvious choice. It laid nicely to the north-east, was sheltered from cold winds, had two streams for fresh water, and the sheltered anchorage in four fathoms at low water was adjacent to the station.
The only immigrant ship that came directly to the Manukau Harbour was The Brilliant, bringing the Cornwallis settlers in 1841. No record was found of the Blockhouse Bay quarantine station being used for that purpose.
The operation of the station was controlled by the Auckland Provincial Council and the area passed to the Marine Department when the provincial governments were dismantled. When the need for a quarantine station passed, because ships powered by steam went to ports that had refuelling facilities, the area was subdivided as part of the Whau South Township.